The weather is turning colder, but it is still a perfect time to invest in a new deck for your home. Miles Bradley is one of Michigan's top deck builders and can build the deck you always dreamed of for your home.
Miles Bradley Building promises to provide both quality materials and exceptional workmanship from our highly experienced master carpenters. As a customer, you can count on competitive pricing, award-winning customer service, and professional design services.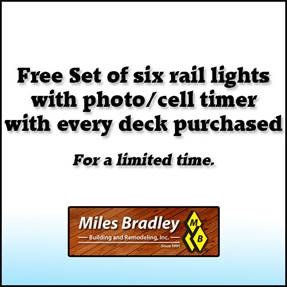 For a limited time, you can take advantage of Miles Bradley's special offer, a free set of six rail lights with a photo/cell timer with every deck purchased.
With rail lights, you give your deck an inviting look and enhances curb appeal. Take advantage of this special offer today!