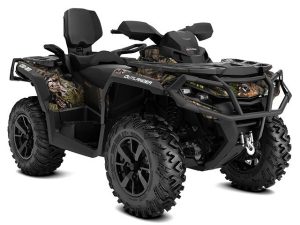 If you are looking for ATV rentals in the Saginaw region, you should check out the Walleye King. When it comes to ice fishing, ATVs are the ideal way to travel across the ice. That is why the Walleye King offers ATV rentals for their ice fishing experience.
Using ATVs in Ice Fishing
When going ice fishing, ATVs are the best mode of transportation for your frozen excursion. This is due to a number of reasons. First of all, ice clearance is smaller compared to bigger vehicles. While cars and other automobiles need at least 8 inches, ATVs and snowmobiles only need 5 to 7 inches. This means that all-terrain vehicles are objectively better and safer on the ice. Furthermore, the storage available is perfect to care for all your fishing gear and ice-cutting tools. That makes it easy to transport what you need to your primary fishing spot. It also allows for mobility on the ice and the ability to escape quickly when the weather changes!
ATV Rentals in Saginaw
For over 30 years, the Walleye King's principal has been sport fishing for Walleye and provides expert guided fishing tours on the Saginaw Bay and Saginaw River. For individuals that want the Do-It-Yourself experience, they offer a modified tag-along plan with an ATV rental. This plan is for those who own their own gear except a vehicle. The Walleye King will provide one of their quads for you to use as long as you bring your own equipment. If you want to have a more independent ice fishing experience, these ATV rentals are the best choice!  To find out more, visit the Walleye King website by kicking the link below!