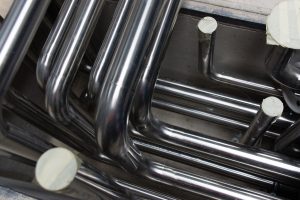 When it comes to custom tube bending, Detroit Tube Products is the best option. Since their opening in 1911, they have specialized in bending all sorts of steel tubes for a wide variety of uses and industries. With various tube bending methods at their disposal, they can handle any request. Regardless of the desired application, Detroit Tube Products can bend the tube just right for you!  
Types of Tube Bending
At Detroit Tube Products, they bend metals for low-pressure applications using several methods such as mandrel bending, compression bending, and crush bending.
Mandrel tube bending is a form of rotary draw bending. This delicate process uses a mandrel bending machine and dies inside the length to shape the tubes to fit a certain application. Using this method, experts can bend tubes of any diameter or shape. Additionally, at Detroit Tube Products mandrel tube bending can be used on steel or other metals at your request.
Compression bending is used to shape circular tubes of moderate or larger diameters. This type of tubing is more simple and less precise. However, this method is typically less expensive.
Crush Bending is a process that bends the tube without any internal support. This alternative process is usually completed more quickly and is more cost effective in the long run. 
Industries Served
Throughout the years, Detroit Tube Products has served many industries with their variety of tube bending methods. This includes the automotive industry, food service equipment, historic site restorations, pool and spa production, radiator construction, security plumbing, as well as several more. 
Whether you need a tube bent for a custom automotive modification or a historic restoration, Detroit Tube Products has you covered! Detroit Tube Products offer other services alongside custom tube bending as well including tube forming, tube shaping, and assemblies. Contact Detroit Tube Products for a free quote today!