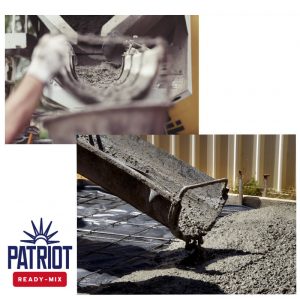 Patriot Ready Mix of South Lyon, Michigan, offers professional concrete services for residential and commercial customers. Family-owned and operated, Patriot Ready Mix offers a large variety of concrete services.
From driveways to foundations they handle it all.
Patriot Ready Mix Concrete
Concrete generally consists of stone, sand, a cement mixture with water and specified admixes for durability and finishing ability. Concrete is usually ordered in "bag mixes". A bag of cement weighs 94 lbs. The minimum bag mix is 4.5 bags per cubic yard which would be used for residential foundations. In addition, concrete driveways normally contain 6 bags per cubic yard. The bag content can be increased for higher strengths and earlier set times such as winter construction.
Concrete is the greatest and most used building material in the world. Also, it is utilized in almost every type of construction. The most common applications range from Residential Foundations, Driveways, Patios, Pole Barns, Pools, Roads, Bridges, and Commercial Buildings. Because of its versatility, it is the Design Professionals' material of choice.
Contact Patriot Ready Mix today at 248-437-1383.